Healthwatch Take Pride in Jay
Engagement Officer Jay Conlon Uses Personal Experience to Champion LGBTQ+ Health and social care Issues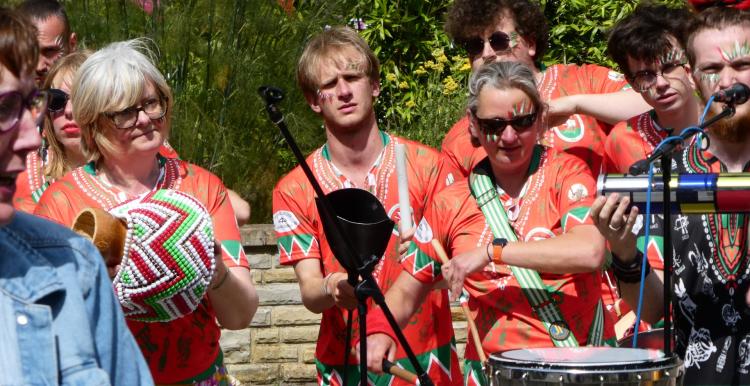 Jay Conlon, recently appointed Engagement and Involvement Officer at Healthwatch Newcastle, is leveraging their own experiences and identity as a queer person to advocate for crucial health concerns within the LGBTQ+ community. Passionate about promoting inclusivity and raising awareness about the unique challenges faced by LGBTQ+ individuals, Jay has emerged as a driving force in amplifying their voices and addressing their needs.
Hailing from Durham, Jay is not only an accomplished musician but also an integral part of the LGBTQ+ band, Runaway Samba. Comprising entirely of LGBTQ+ members, including individuals who identify as trans and non-binary, the band was formed in 2012 under the community arts company Jack Drum Arts in County Durham. Through their music, Runaway Samba provides a safe and inclusive space, fostering a sense of belonging and celebration for all, regardless of sexual orientation or gender identity.
Reflecting on their journey, Jay shares, "I came out when I was 13 years old, and I have been a part of Runaway Samba ever since. The band has been a sanctuary for people who feel like they don't quite fit in with societal norms, and as someone who identifies as queer, I naturally gravitated towards it. We have an incredibly diverse mix of members, representing various sexualities, gender identities, and backgrounds, all within the band itself."
As a musician in Runaway Samba, Jay contributes their vocal talents and specializes in playing the Surdo, a large drum used in parades, along with other instruments. Their journey even led them to participate in Brazil's carnival events in 2017, an extraordinary experience that left a lasting impact.
Speaking about the importance of support within the band, Jay said, "It is crucial for LGBTQ+ individuals to feel validated, safe, and protected. When performing, especially in front of an audience, it is essential to know that your bandmates have your back. While progress has been made, there are still dangerous situations and negative reactions surrounding identity, gender, and sexuality."
In Healthwatch Newcastle and Healthwatch Gateshead Jay has been met with acceptance, comfort, and proactive measures to ensure their safety and well-being at work-related events. However, outside of work, they experienced an assault highlighting the misconceptions and challenges faced by those who are different from societal norms.
Yvonne Probert, CEO of Tell Us North CIC which delivers the Healthwatch Newcastle and Healthwatch Gateshead services said "As an inclusive organisation we welcome everyone across our communities to join our team of staff, volunteers and committee members. We respect people's individuality and retain confidentiality when requested to. We don't believe in stereotyping, and we wish to support any person to succeed in our workplace. It is so good for staff like Jay to have the confidence to speak out about their experiences to both colleagues and the public."
Jay's commitment to their role at Healthwatch allows them to offer valuable insights and guidance to individuals within the LGBTQ+ community who may lack the same level of understanding and support. Drawing from their experiences and deepening knowledge of health and social care issues, Jay provides advice and a supportive presence to those who need it most.
Expressing gratitude for the support received, Jay said, "Healthwatch has been exceptionally accepting, comforting, and understanding. They actively sought ways to make me feel safer and more comfortable, considering the potential encounters with less understanding people in public-facing roles. I have always felt accepted and embraced within Healthwatch, and I continue to actively engage with and support the LGBTQ+ community in my personal life."
"I am privileged to be able to share the benefits of my experiences with others," said Jay. "Working with Healthwatch has given me the opportunity to provide support and guidance to people from all aspects of life, not just the LGBTQ+ communities. I value the relationships I have made in the community, and I am grateful for the support that Healthwatch Newcastle and Healthwatch Gateshead have given me."